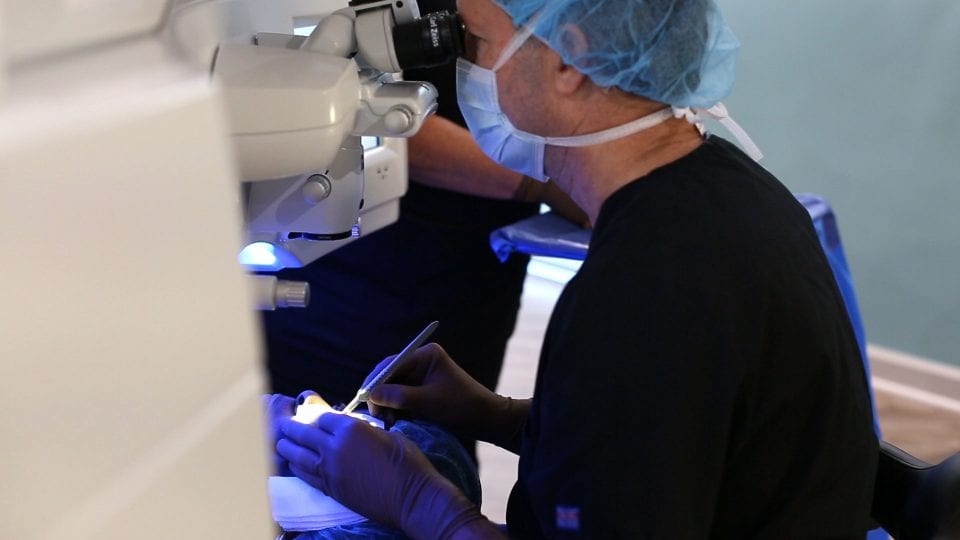 Corneal Cross-Linking—Coming Soon!
Corneal Cross-Linking i-Volution
Corneal Cross-Linking i-Volution—Coming Soon!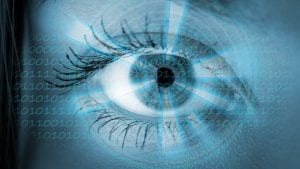 Corneal collagen cross-linking is a procedure which uses UV light and a photosensitizer to strengthen chemical bonds in the cornea. The goal of the treatment is to halt progressive and irregular changes in corneal shape known as ectasia. These ectatic changes are typically marked by corneal thinning and an increase in the anterior and/or posterior curvatures of the cornea, and often lead to high levels of myopia and astigmatism. The most common form of ectasia is keratoconus and less often ectasia is seen after laser vision correction such as LASIK.
Cross-Linking Background
Cross-linking of collagen refers to the ability of collagen fibrils to form strong chemical bonds, aka cross-links with adjacent fibrils. In the cornea, collagen cross-linking occurs naturally with aging due to an oxidative deamination reaction that takes place within the end chains of the collagen. It has been hypothesized that this natural cross-linkage of collagen explains why keratoectasia (corneal ectasia) often progresses most rapidly in adolescence or early adulthood but tends to stabilize in patients after middle-age.
The bases for the corneal collagen cross-linking procedures were developed in Europe by researchers at the University of Dresden in the late 1990's. Clinical trials have been in course since the same year.

UV light was used to induce collagen cross-linking in riboflavin soaked porcine and rabbit corneas via the oxidation pathway. The resultant corneas were shown to be stiffer and more resistant to enzymatic digestion. Investigation also proved that the treated corneas contained higher molecular weight polymers of collagen due to fibril cross-linking. Safety studies showed that the endothelium was not damaged by the treatment if proper UV irradiance was maintained and if the corneal thickness exceeded 400 microns.
Corneal collagen cross-linking is not FDA-approved in the United States. As of April 13, 2014, the FDA has 63 registered studies related to corneal cross-linking, of which 30 are listed as completed, 2 withdrawn, 8 unknown and 23 as either recruiting, enrolling or active. Ophthalmologists in the US were anticipating possible approval of the procedure pending the results of a multi-center phase 3 clinical trial in 2011, but the completed study has still not been published in its entirety.
Indications for Cross-Linking
Corneal Ectasia
 Keratoconus
Iatrogenic Ectasia
Pellucid Marginal Degeneration (PMD)
Infectious keratitis
Contraindications
Corneal thickness of less than 400 microns is a contraindication to the standard treatment protocol
Prior herpectic infection is a contraindication because it may result in viral reactivation
Concurrent infection
Severe corneal scarring or opacification
History of poor epithelial wound healing
Severe ocular surface disease (ex. dry eye)
Autoimmune disorders
Cross-Linking Protocols
The primary goal of the first stage of cross linking therapy is to allow riboflavin to diffuse into the cornea. While there are several variations on the procedures used to accomplish this, all entail either removing or weakening the epithelial barrier of the cornea. In all instances the patient is first given anesthetic drops. Some ophthalmologists will also give preoperative antibiotics. A lid speculum is placed. After disrupting the epithelium, drops of riboflavin 0.1% (vitamin B2) are given at intervals of 2 minutes for 20 minutes, or until riboflavin can been seen in the anterior chamber of the eye by use of the blue filter on slit lamp examination. The corneal epithelial layer is generally removed to increase penetration of the riboflavin into the stroma. After adequate riboflavin absorption, the patient is positioned with the UV light (typically 365um) at a small distance (+/- 5cm) from the corneal apex for 30 minutes.
Epithelium-Off (Dresden protocol)
The standard cross-linking procedure, also called Dresden protocol (CXL) requires the removal of central corneal epithelium layer (epi-off), followed by 20 minutes of riboflavin installation, followed by UV light illumination for 5, 10 or 30 minutes.
Transepithelial Cross-Linking
In transepithelial or epithelium-on (epi-on) cross-linking procedure, the corneal epithelium layer is left intact. Since the epithelium is not removed the riboflavin absorption requires more time than with epi-off procedure.
Cross-Linking and LASIK
Corneas normally become thinner after LASIK because the excimer laser used removes tissue, especially when higher degrees of spectacle power or larger optical zones are treated. Rarely this thinning causes the cornea to bulge forwards and become distorted (ectasia). Like keratoconus, corneal collagen cross-linking has been found to benefit patients with post-LASIK corneal ectasia as well. However, when cross-linking is performed only after the cornea becomes distorted, vision remains blurry even though the disease is stabilized. Simultaneously cross-linking corneal collagen with LASIK aims to strengthen the cornea at the point of surgery and may be useful in cases where a very thin cornea is expected after the LASIK procedure or having patients with already thin corneas before surgery.
It is important to note that cross-linking does not magically restore the vision in any way. It is designed to strengthen the cornea to slow or stop progression and make the cornea more receptive to contact lens wear or another mode of vision correction.
Griffin Eye Center uses the PXL Plantinum 330. This device was designed with a special focus on effectiveness, safety and user friendliness and incorporates the latest clinical experiences. It enables the user to select the required energy levels.
In recent years corneal cross-linking has become the standard procedure for treating patients with progressive keratoconus and other ectatic corneal diseases because of its effectiveness and lack of serious side effects. A large number of major clinical studies has proven the effectiveness of CXL and the lack of serious side effects. More than 85 % of eyes treated with CXL showed a significant increase in BCVA. Six months after the procedure cylinder was reduced in the majority of patients.
Discover why Griffin Eye Center is
your #1 choice for your vision treatment