FREQUENTLY ASKED QUESTIONS ABOUT LASIK MYRTLE BEACH-PART 2
LASIK (Laser-Assisted-In-Situ Keratomileusis) is an FDA-approved outpatient procedure that uses the excimer laser to reshape the cornea to correct your vision. LASIK typically takes less than 10 minutes to perform on each eye and is one of the most frequently performed healthcare procedures in North America. Ophthalmologist, Neil Griffin, M.D., performs LASIK surgery in a new on-site, state-of-the-art Myrtle Beach facility at Griffin Eye Center.
Could I have LASIK to decrease my need of glasses after cataract surgery?
Yes. Some people had cataract surgery before advanced technology lenses were made available in the US. These patients wear glasses after cataract surgery. LASIK can be performed after cataract surgery to reduce the need for glasses. With LASIK, some people choose to have one eye set to see well for distance without glasses and wear reading glasses for near. Others choose to have one eye set to see well for distance without glasses and the other eye for near without glasses which is called monovision. LASIK can be performed in these patients to minimize the need for glasses.
If I have been told I have astigmatism can I still get LASIK?
Astigmatism occurs when your cornea is shaped like an egg. It is a misconception that LASIK cannot treat astigmatism. Today's technology can reconfigure the corneal shape to create a normal shape.

What Can You Expect the Day of Your Procedure?
On the day of your procedure, you should arrive at the office as rested and relaxed as possible. You will need to sign an informed consent, which we will go over with you prior to your procedure. It's natural to feel a mixture of eager anticipation and nervousness before your procedure. Be sure to bring someone to drive you home, or make other arrangements for transportation. You should allow approximately two to four hours for the entire process.

What is the LASIK recovery?
After surgery, your eyes may feel irritated and may tear or water for a few hours. Most patients are quite comfortable after a nap and rest while wearing protective eye shields. Some LASIK patients wear the eye shields while sleeping during the first few days. Do not rub your eyes during the early healing stage. It is not unusual for your eyes to feel dry for several days. If you experience discomfort, your doctor might suggest you take a mild pain reliever. Many patients return to work within a day or two. You will need to follow the restrictions provided by your doctor so that you will quickly be able to resume your normal activities.
Your LASIK results during your initial consultation, we will determine the range of your probable outcome based on your prescription and diagnostic test results. Most LASIK patients notice dramatic visual results within the first few days following their procedure. However, the speed of visual recovery depends on your personal healing patterns and patients with higher prescriptions might recover more slowly.
Is LASIK right for you?
LASIK is a safe and popular alternative to glasses and contact lenses, with millions of satisfied patients. The best way for you to determine if you are a candidate for LASIK is with a complete medical examination of your eyes and personal consultation in our office. LASIK can treat a broad range of nearsightedness, farsightedness, and astigmatism in people who are at least 18 years old, who are in good general health with a stable prescription and who don't have any eye diseases. LASIK, like any other surgical procedure, has risks of complications and should be discussed with your eye care provider.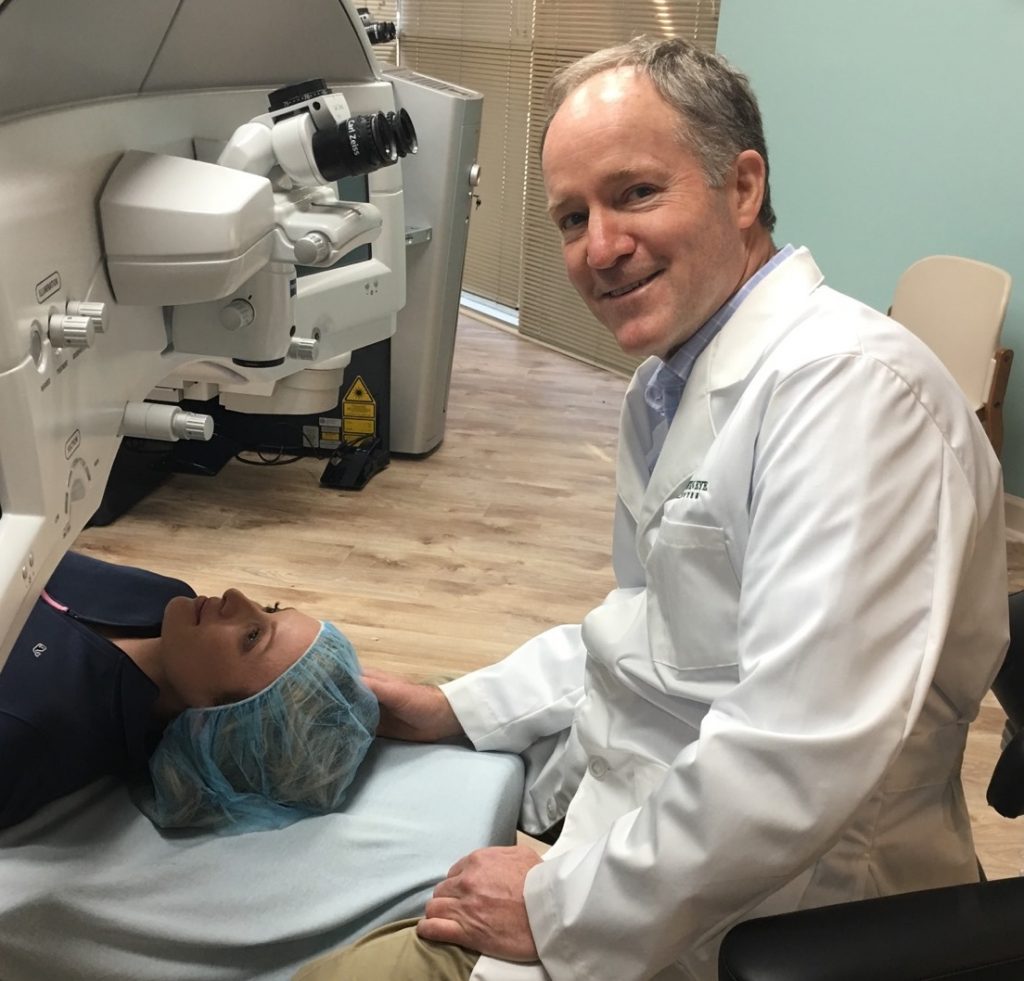 LASIK and Cataract Surgeon, Dr. Neil B. Griffin has been named a top cataract surgeon by Precision Eye Services. He has also received multiple local distinctions, including Best Laser Vision Surgeon from the South Strand News, Best Ophthalmologist and Best Laser Eye Surgeon from the Myrtle Beach Herald from 2018 to 2021, Best Ophthalmologist and Best Laser Eye Surgeon from the Carolina Forest Chronicle 2019 to 2021, and Best Eye Doctor, Vision Center, Ophthalmologist and Laser Vision Surgeon 2021 North Strand News Readers' Choice Award!
Dr. Griffin is one of the leading ophthalmologists in the area and specializes in cataract surgery and LASIK in Myrtle Beach. He is committed to providing world class surgical technology and the most advanced vision diagnostics to the South Carolina and Myrtle Beach area. Griffin Eye Center offers the latest in cataract surgery with the most advanced Intra-Ocular Lenses available and a state-of-the-art on-site LASIK suite for the best Laser Vision Correction.
For more information on LASIK and to schedule a FREE LASIK consultation call 843-449-6414 or visit griffineyecenter.com for more laser surgery vision correction options.